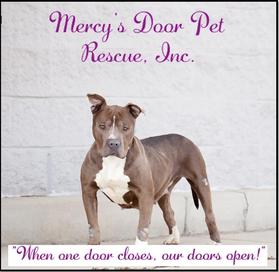 We need foster homes to save more lives! Please email info@mercysdoorpetrescue.org
if you are interested in becoming a foster parent.
Mercy's Door Pet Rescue, Inc. saves lives of neglected, stray, abandoned and abused dogs through the generosity of individuals that want to help make a difference. We are a registered 501(c)3 non profit, charitable organization primarily serving dogs in shelters in Ohio. We strive to be a voice for the voiceless and showcase that no matter the breed, each dog deserves the chance to be loved. We rescue, rehabilitate and, when they're ready, find them a forever home. Please consider adopting or fostering for Mercy's Door. We do not have a facility and rely on foster homes to be able to save lives. If you cannot foster or adopt, please consider volunteering or donating toward the cost of operating this rescue. Any and all methods of support are greatly appreciated by not only the members of this organization, but the sweet souls we are able to help with assistance from our great supporters.
-------------------------------------------------------------------------------------
Sign up below for our monthly (email) newsletter -
stay up to date on upcoming events, new arrivals, adoption stories and ways to support!
New to Mercy's Door: Welcome!

Total new additions (in 2015): 22

Recently Adopted: Congratulations!

Total adoptions (in 2015): 28
All of the dogs and puppies in our care stay in loving foster homes until they are adopted. We do NOT have a shelter or facility, therefore we are always looking for dedicated fosters to assist us in saving lives. Each dog is spayed/neutered, HW tested (if old enough), updated on age appropriate vaccines, and treated for any illnesses and/or behavioral issues before becoming available for adoption. They stay in foster homes for a minimum of two weeks (and for as long as they need, no time limit) to be sure they are given the appropriate time to settle in and give our fosters the chance to get to know them. This helps us decide what type of home environment would be the most appropriate match, since individual wants and needs vary from dog to dog. For more info on adopting a Mercy's Door dog or puppy, please refer to our
applications
page, where the process begins. Thank you in advance for your support in helping these great animals find the families they deserve.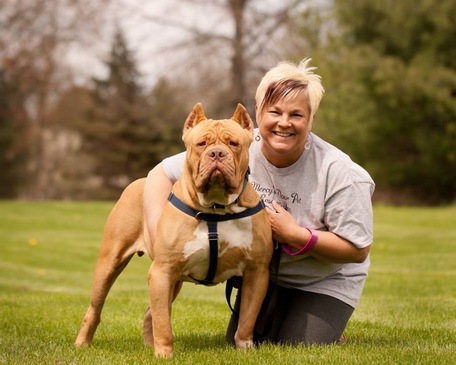 "My passion for fighting for "pit bulls" started several years ago as a volunteer for my county dog shelter. I was one of the dog walkers who came a few times a week to walk and play with the dogs. I watched as numerous "pit bull" labeled dogs were overlooked week after week by people who came in to adopt dogs for no other reason than their breed label. These dogs were just as deserving as any other dog of finding their forever homes but because of so much BSL ( breed specific legislation) and negative media hype they were constantly passed over. I decided to make a difference and decided to follow my dream and start Mercy's Door Pet Rescue. The magnificent dog in this picture with me is Ruckus. Yes Ruckus has been adopted and lives the life of a king, but he didn't always have it that good. Ruckus came from a cruelty/neglect case. Ruckus was one of the lucky dogs on the property along with about 6 others as they were the "money makers" the breeders to produce puppies. Sadly the other 10 dogs found chained outside didn't receive the food or care the money makers did sadly two dogs were found dead chained to their dog houses frozen and starved to death. They day Ruckus was saved he was found locked in a bathroom but thankfully he was alive. I will fight for all the abused, neglected, misunderstood "pit bulls" until there is no longer a need for rescues to save these amazing souls. I pray one day "pit bulls" are called a dog just like every other dog out there." -Krissi Tober-Fussner, President, creator, heart and soul of Mercy's Door