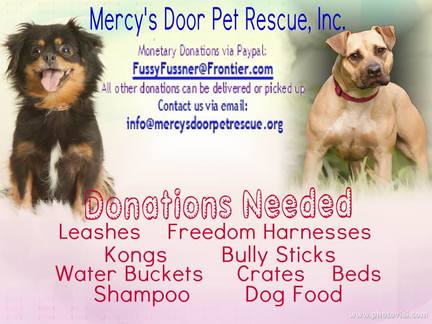 If you'd like to help a rescue dog but can't adopt or foster...consider donating! Whether it be monetary donations, food, toys, sheets, blankets, treats, beds, crates, sponsorship money towards a dog's monthly care, or supporting an organization that donates to us, it is a big help! Not only is it helpful to current rescue dogs, it allows us to continue to help save more lives. Please remember that since MDPR is registered 501c3, your donations are tax deductible and greatly appreciated! Details on how/where to donate below:



---
---
Monetary donations can be sent online through PayPal or through the mail.
PayPal: fussyfussner@frontier.com. Please choose friends or family option to prevent them from deducting fees! (Click image above for easy access!)
Mail: P.O. Box 77 Savannah, Ohio 44874.

Donations of dog supplies -

toys, food, sheets, blankets, Kongs, Nylabones, stuffed toys, treats, leashes, towels, bowls, cleaning supplies, etc. - are ALWAYS accepted! As anyone with pets knows, they go through a lot of supplies. We are always welcoming of donations to keep them comfortable, happy, healthy and having fun. Please visit our

Amazon wish list

to view and donate items that are currently needed.

Please email donations@mercysdoorpetrescue.org if you are looking to donate supplies of any kind. We can arrange pick up if local or give you a shipping address.

---

Raise funds for Mercy's Door Pet Rescue every day while you walk your dogs! Download the Walk for a Dog and ResQwalk apps for your smartphone. Choose Mercy's Door Pet Rescue as your pet charity, and then turn the apps on every time you go for a walk or run. The more people that use the app in support of our rescue, the more funds we receive! It's a simple way to help our cause.

Support Mercy's Door Pet Rescue by

ordering a beautiful print from An Act of Dog - Museum of Compassion and selecting our rescue

from the drop down box. "Here's how our "Rescue Rewards" program works... Every time you buy one of our products, we give rewards of $55, $50, $25 or $5 from your purchase to a rescue organization, and you, the buyer, get to choose from our list below and must include it from the drop down menu before adding to cart." For more info or to order, check out

http://anactofdog.org/pages/rescue-rewards-program-rescue-partners

.

Select us, Mercy's Door Pet Rescue, Inc. as your charity of choice on Amazon!

When you shop at smile.amazon.com, Amazon will donate 0.5% of your purchase price to us. Simple way to help the pups while doing your everyday activities! P.S. You can check out our

Amazon wish list

while you're shopping, too!

We are an Animal Hearted affiliate!

By shopping at this link, you will be helping the dogs we save. Animal Hearted donates to Mercy's Door Pet Rescue for every purchase made here:

http://animalhearted.com?rfsn=103572.366a

. Just

use code MERCYSDOORPETRESCUE at checkout

and not only will you receive a discount, but we will benefit from your purchase. Happy shopping!

Partial proceeds from the sale of this shirt from IPittytheBull will be donated to Mercy's Door Pet Rescue. Click either photo for a direct link to order!
If you donate to the rescue and would like a donation receipt for tax purposes, please specify this when your donation is made.
Do you have an idea/fundraiser that would help us raise funds for the pups? Let us know! Email info@mercysdoorpetrescue.org with the details. Thank you!